Still known by the nickname the "Prairie State," Illinois once was covered with Tallgrass Prairie to the tune of 22 million acres, as recently as the 1820s. Now, 99% of that has been lost to farming/plowing and development, with only about 2500 acres of quality "true" prairie remaining! We visited both a restored prairie and several untouched, original remnants on a recent trip to Illinois, to try to discover what the pioneers actually saw as they traveled across the vast expanses of grassland and wildflowers on their way west...The state is at the eastern end of an area known as the "Prairie Peninsula," as it was surrounded by forests on the East, North and South. At its peak, this area in Illinois - called the Grand Prairie - supported over 300 species each of plants and birds and more than 1000 kinds of insects! At one time, this sea of grass covered more than 250 million acres over a span of 8000 years! The tall grasses of Illinois can grow to seven feet - our visit, early in the season, shows the plants and grasses in late spring and during a "dry" spell...well on their way to "Tallgrass" status, but not quite there yet!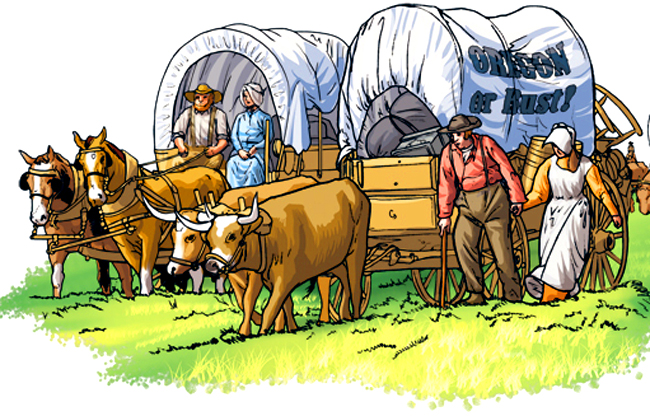 From Volume 82 of the Lutheran Journal: "It is 1830....the prairie schooner is packed with their belongings...the family climbs into the wagon. The whip cracks, the wagon jerks forward..." So it went as the pioneers moved west on that long trek toward a new land. This particular family was on a journey to Rock Island, Illinois, from a farm in the Green Mountains of Vermont. "So parting could be sorrowful. But the first glimpse of the two-mile-wide plain that lay "like a tongue" between the Mississippi and Rock Rivers (in Northern Illinois) was magic. When the earliest settlers arrived in the 1820s, they found that plain awash with flowers and a sea of undulant green tall grass." Looking out over the stretches of prairie that still exist, it was easy for us to imagine what went through the pioneer's minds as they prepared to cross the then-vast grasslands. Please enjoy our all-too-brief visit to the remaining prairie of Illinois! Note: The above illustration is courtesy of the website estudiesweekly.com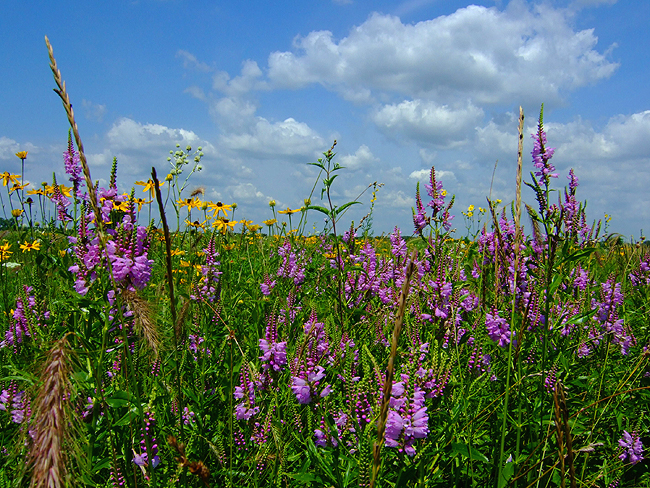 An example of the tallgrass prairie in full bloom, at Midewin National Tallgrass Prairie in Wilmington, Illinois - the first national tallgrass prairie, established in 1996. At 19,000 acres, it is still being restored on the site of the former Joliet Arsenal...Image courtesy of csa.com.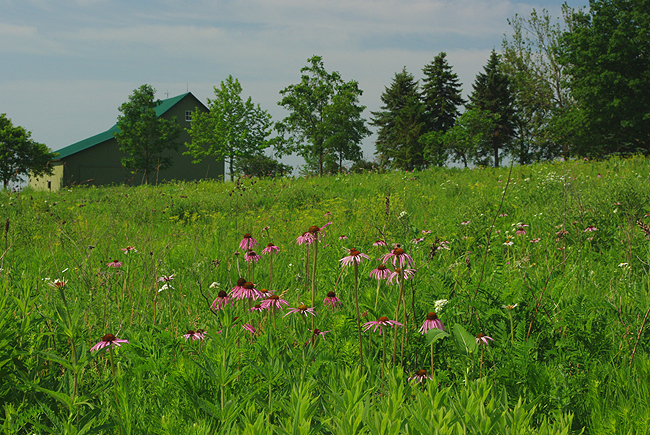 Ken Robertson, of the Illinois Natural History Survey/Prairie Research Institute, part of the University of Illinois at Urbana, was a great help in our research. He was instrumental in guiding us to experience both on-going prairie restoration efforts and to see areas of prairie that have been untouched by plowing, farming and development (and there aren't many!). Ken also put us in touch with Don Gardner, who instituted the Gardner Prairie Project. Don has been restoring pastureland to its original prairie state since 1974 and the results have been amazing!
Above is part of that area, with a restored barn, in Mona Township on the south side of Kempton, Illinois. The project is ongoing...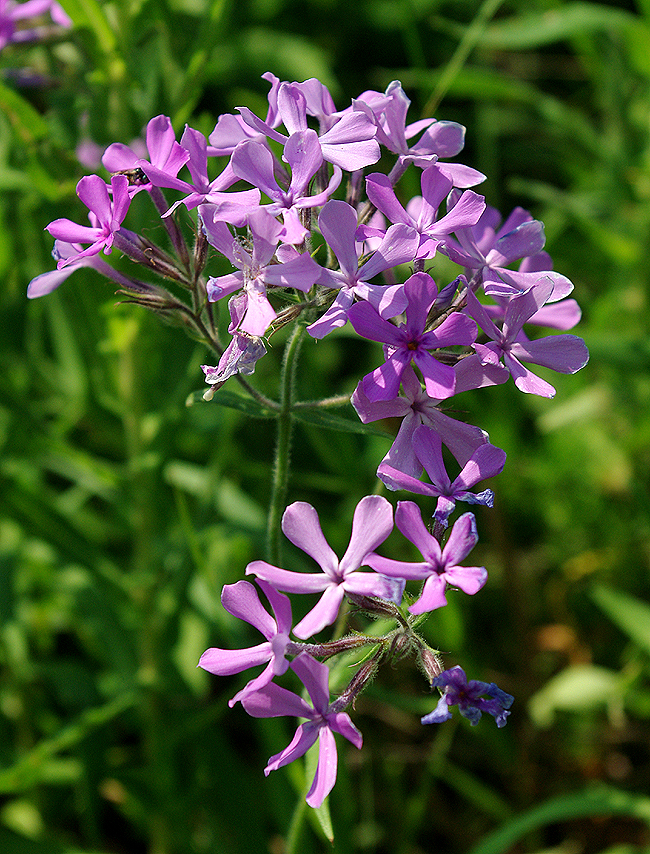 Prairie Phlox - grows up to two feet tall and may be in white, pink or lavender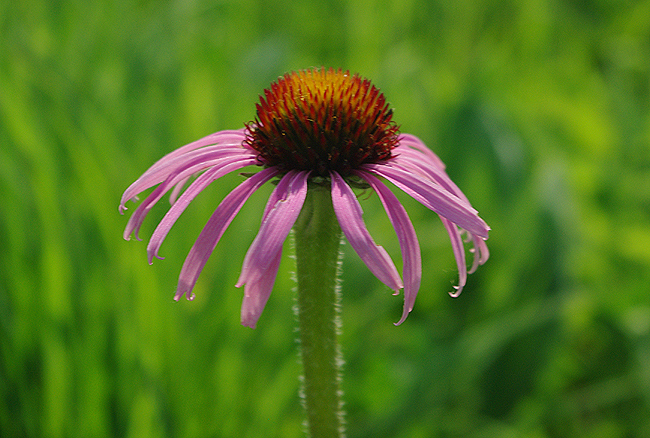 Above and below: Pale Purple Coneflower, with its bristly stem - a common prairie inhabitant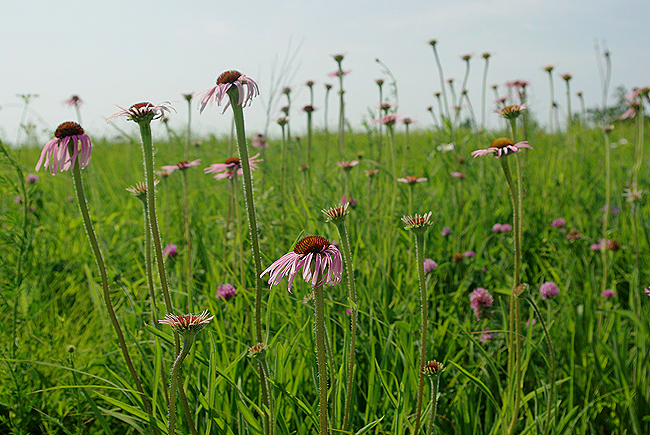 Don has collected seeds from along railroad rights-of-way and from old pioneer cemeteries, all within a 120-mile radius, in order to ensure the growth of only regional plants/ecotypes. What has resulted is a natural prairie, looking the way it did in the 1800s...It is very much a labor of love!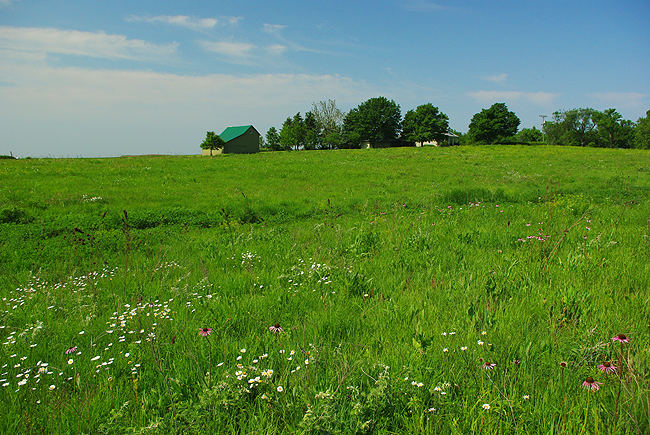 A wider shot illustrates just how vast the Tallgrass Prairie was in the early 1800s, before farming came along. Wildflowers dot the landscape and offer a constantly-changing color palette throughout the growing season...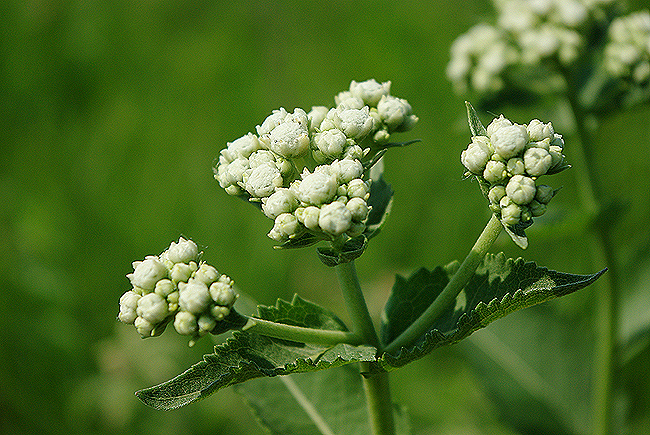 Above: Wild Quinine - belonging to the Aster family, it grows 2 to 3 feet tall on the prairie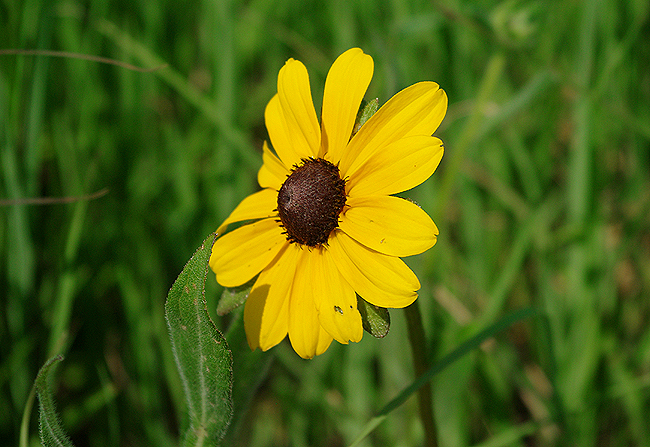 Black-eyed Susan, basking in the sunlight...These are common in prairie restoration areas...
A visitor to a Pasture Rose...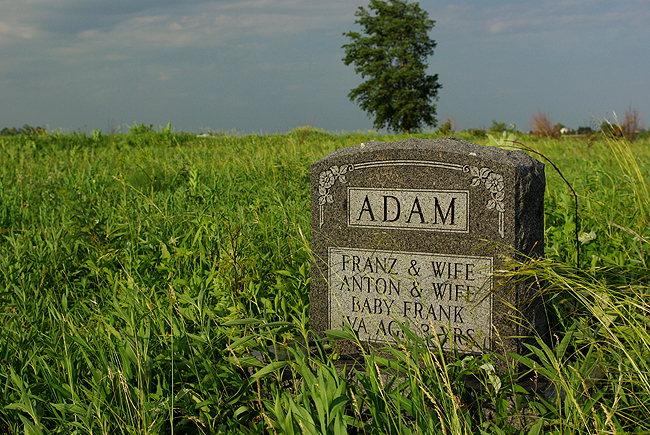 In our quest for original prairie remnants, we were lucky enough to find, among others, Weston Cemetery Prairie, now designated as the Weston County Prairie Nature Preserve, in McLean County. It is an oasis of never-been-plowed, black soil natural Tallgrass Prairie surrounded by field crops just east of Weston, IL on County Road 24. Founded in 1870, the cemetery was never widely used and its 5 acres represent an accurate picture of how the prairie looked pre-settlement - in other words, what the pioneers saw! Click here for more details on this lovely site!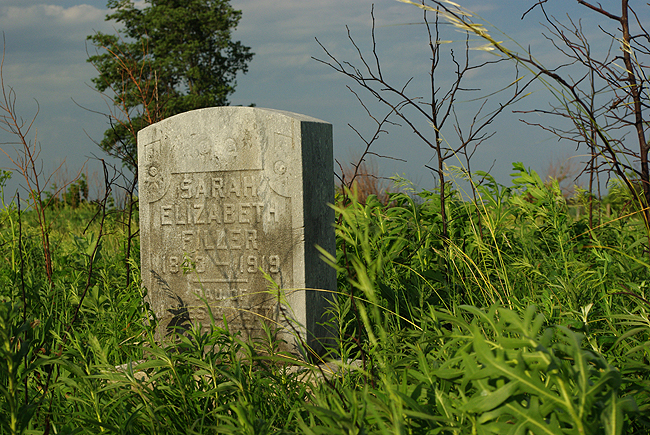 Grasses that populate the Tallgrass Prairie include species such as Big Bluestem, Indian, Prairie Panic, Prairie drop-seed and Porcupine varieties...Of these, Big Bluestem is perhaps the most abundant, growing up to ten feet tall! It is the Official Illinois State Prairie Grass.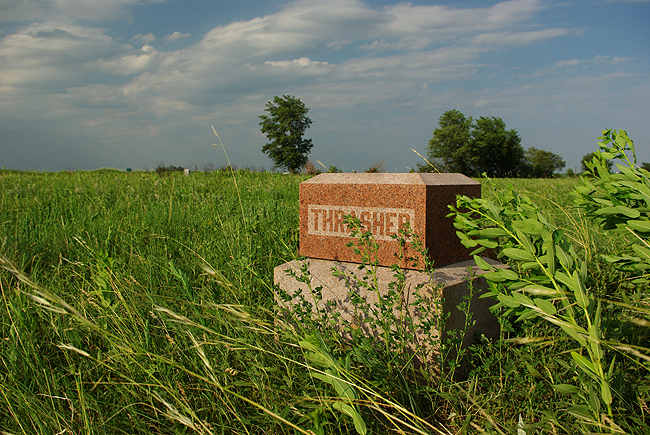 The "look" of the Illinois prairie varies widely, depending on the time of year one visits. Wildflowers sprout and pass on as others take their place from Spring through Fall and of course, the grasses continue to grow taller and taller.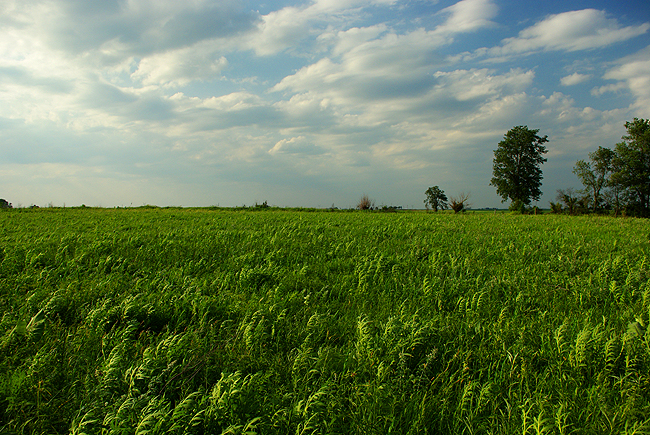 At Weston, with the wind blowing stiffly, a sea of grass "hisses" and wavers while clouds build from the west. Standing alone in this lovely area of Tallgrass Prairie, it is not hard to imagine oneself back in the early 1800s, wondering if this blanket of green ever ends! This is what the early settlers saw and fortunately, these small areas are being protected... and other prairies are in the process of being restored for all to enjoy...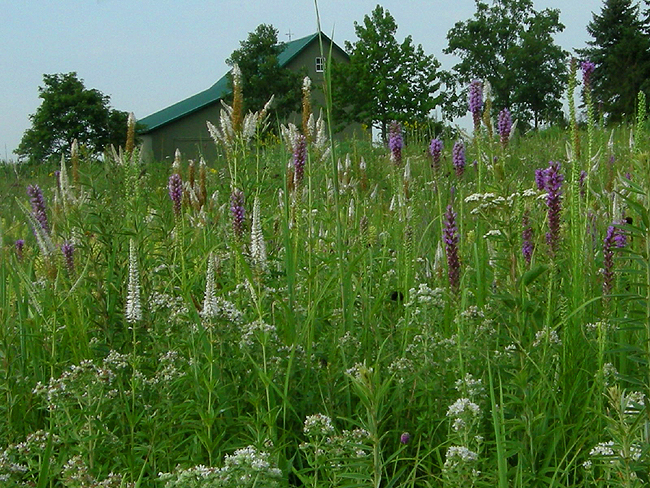 July, 2012: Even after a very dry spring, the wildflowers manage quite well, going into summer!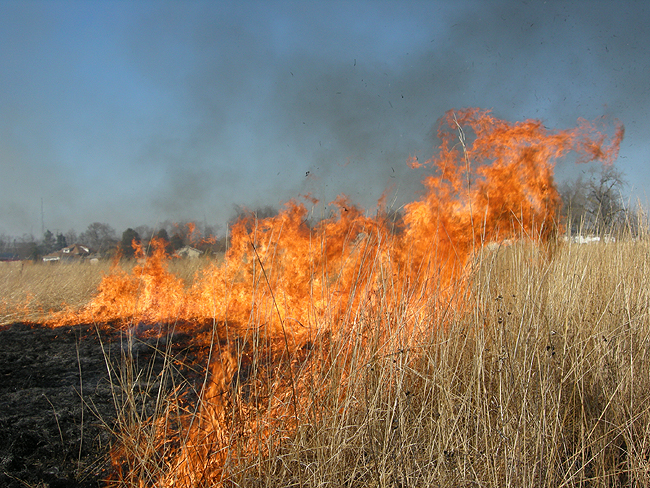 One of Don Gardner's prairie "burns" - necessary to the health of a natural prairie...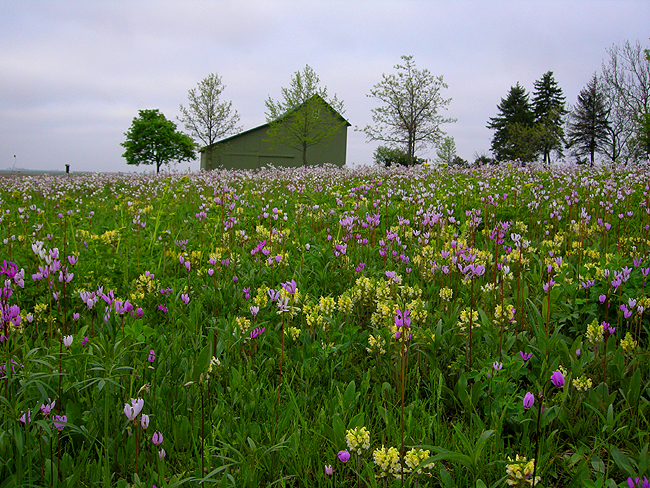 Immediately above and below: May, 2013 - by Don Gardner.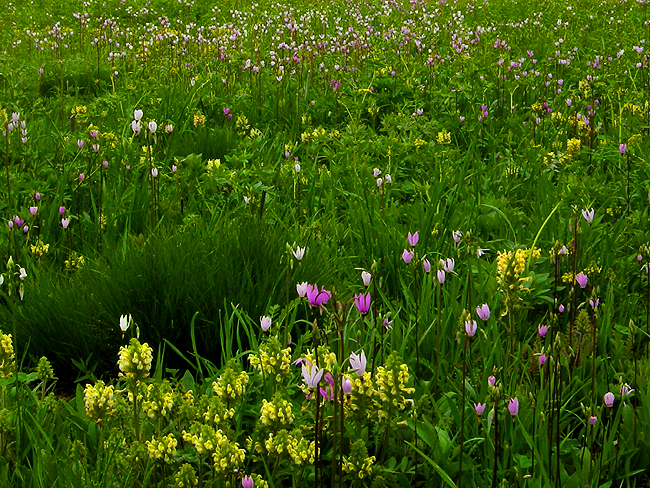 Don Gardner supplied the above 4 images, to show the growth and change in the prairie flora at different times of the year. With either very dry/drought or "normal" conditions, you can see that the Illinois Tallgrass Prairie is flourishing - the grass ever taller... Thanks a million Don!
UPDATE 2013: Below are three additional images Don recently supplied showing the flora in gorgeous bloom...Can you imagine coming over a ridge in a covered wagon and seeing a sea of undulating color such as this? Had to be an amazing sight to the Pioneers crossing the prairie!
We hope these images will inspire you to travel to what's left of the Tallgrass Prairie and experience "what must have been" long ago...Thanks to Ken Robertson and Don Gardner for their time and expertise and to Don especially for taking us on a personal tour of the amazing restoration he continues to nurture!
- Donna and Dennis Hubbs, D&D Travel
Photos. c. 2012, Dennis A. Hubbs, D&D Travel Services, LLC (except as noted)